Even when you know it's coming, death is never easy. Especially when the one who passes happens to be your loved one.
I apologize for my absence over the past week. My Grandmother, my Dads Mother, passed away last weekend. Myself and my two sons hopped a plane back to Indianapolis late Tuesday night. Kenidi stayed behind here in Florida with my husband. The boys and I touched down into frigid and cold Indiana shortly after midnight on Wednesday morning. My father and my step-mom picked us up at the curb and although our reason for coming home was a sad one, it sure felt good to give my Dad a hug and see his smile.
The image above is of my grandmother with my daughter Kenidi just a few short months ago. When this photo was taken, the doctors had already given my grandmother 6 months to live. During our last visit to Indy back in August of last year, we visited Grandma on several occasions. Kenidi was leaning in to give her great-grandma a kiss here and I managed to snap the shot just in time. I remember almost deleting this image from my camera because the lighting was horrible & because of the lack of light...the image was noisy (grainy) and lacked luster in my opinion. As a photographer, it's an image you would normally knit-pick apart in high critique fashion. I held back on deleting it all those months ago though and I'm so thankful that I listened to my heart instead of my photography driven eye back then. I sent this to my Dad via email before my arrival back in Indy and just said..."The power of a camera..." This image is now priceless to me. Priceless. I'll treasure it forever.
We are back in Naples now. Back to the reality of burying my grandmother, saying goodbye to my Dad yet again, and just coping with the chapters of life that we'd much rather skip. The toughest part to my week is watching my father hurt. Watching him in pain over the loss of his Mother. As an only child and a serious Daddy's girl, you just wish you could take away all of his sadness but unfortunately I can't. With all that said though, I'm proud of my Dads strength but also thankful for his sentimental openness and his raw emotion that he shows in times such as this. As a daughter, it's great to see a big, strong, tough Dad by your side but it's even better to see your Father stand before you and not be afraid to share his tears, be open with his feelings, & transparent with his heart. As a daughter, this is so very important! I'm a lucky girl.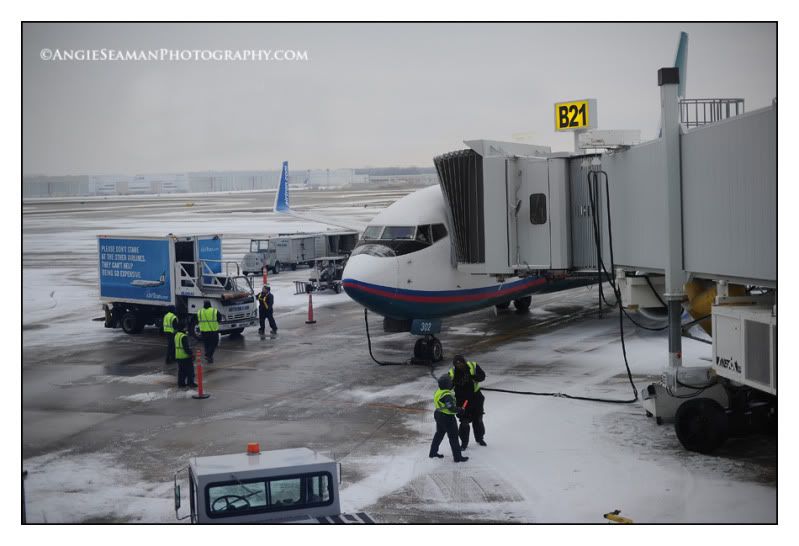 We took off out of Indiana Saturday night. There were ugly gray skies and snow on the ground as you can see from the image above. However, seconds after take off, the pilot climbed up and above the clouds. Literally a minute into the flight we went from the sights you see in the above photo to this...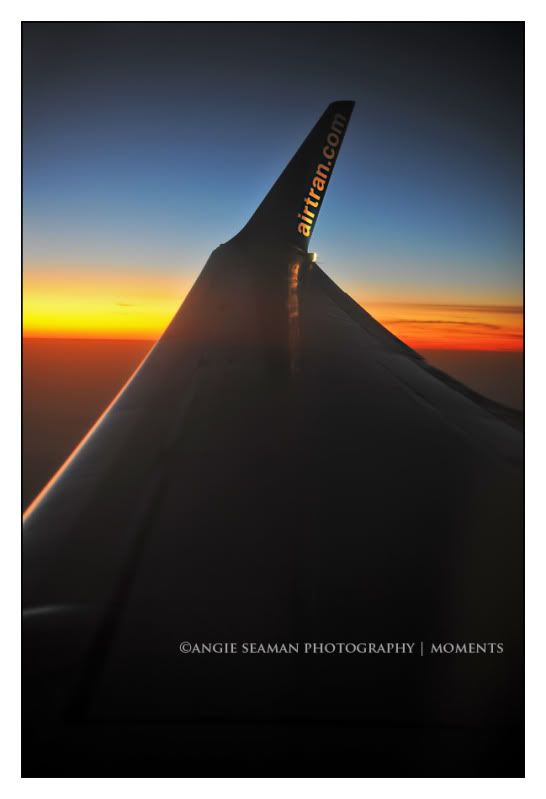 I was in shock. How does the gray cloud cover in the sky look like THAT above the clouds? I immediately thought of my Grandma again and smiled. I knew she was living in that paradise now. In those colors. In that beauty. God is certainly a talented artist and he was no doubt showing off up there. I felt so blessed to witness such perfection for the duration of that sunset and felt such peace to think about how my grandmother was enjoying all of that now full time. She left a dull and gray life. She left a dreary stack of chapters in her earthly book for all new stories that will be written for her in heaven. In seconds her life went from cold and depressing, lifeless and lack-luster, to potent, powerful, beautiful, and full of color. I can hear her laugh in my head as I type. God is great and I know she is in good hands.
In him, Angie