I was recently inspired by another photographer to grab my camera and take it everywhere - yes everywhere. That includes a trip to Target in the frozen food section. LOL! I had gotten out of the habit of bringing my camera along on any random trip lately unless I have a photo shoot that I'm headed to. Bad Angie. Bad, bad, Angie. I know better. So...Brennen had basketball practice the other night and I decided to take Kross and head to the local Target for some much needed groceries. Guess who I also took with us? Yeap, my camera.
I love lines in photography - angles and lines along with color. This arch above him really helped make these shots for me.
As you can see, he was playing with a football in the cart and that boy wouldn't release it for anything. He had a death grip on it. Literally. In the end, it added to the quirkiness of the images I guess. LOL! That's my story and I'm sticking to it. Ha ha!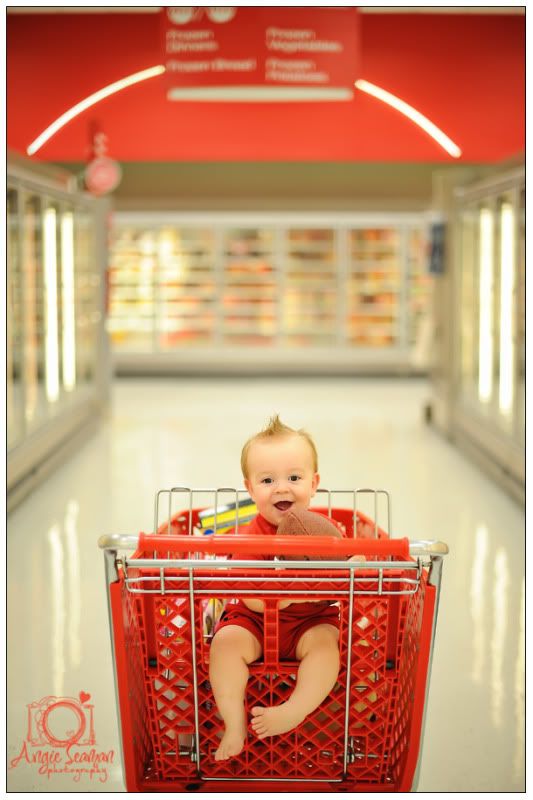 Did I have some onlookers pass by and glance at me like I was nuts while doing this? Heck ya. I think they thought I'd lost my mind. I was laughing so hard at the whole process though that I couldn't help but get lost in the moment. My giggles surely made them think I was even more nuts. Kross was loving it. I was playing peek-a-boo behind my camera with him to get him to smile. He passed with flying colors. :)
We eventually headed back to the basketball courts and picked Brennen up from practice. It was a gorgeous night and I thoroughly enjoyed hanging with my boys - even though I had to pay a trip to the grocery store which I totally detest. Amazing what my camera will do for my soul - even while grocery shopping. LOL!
Tonight I'm headed out to dinner with my hubby and some neighbor friends of ours. I'm looking forward to the down time with great friends as well as some good ol' fresh Florida lobster. I have a weekend chalked full of shoots which I'm also extremely excited about. Now if that hurricane that just dissipated out in the gulf will stop the rain from heading this way and canceling my shoots, I'll be a really happy girl. I just finished up a newborn session this after with a beautiful 5 day old baby girl. Swoon! Stay tuned for those sneak peeks to come soon. What a doll baby she was. Other than all that, the stone crab festival is going on here in Naples this weekend. More yumminess to add to the calendar.
I hope all of you have a great weekend and enjoy those Halloween parties that might be on your schedule. If you're in the Midwest, start a bonfire and roast some marshmellows for us Floridians, will ya? Oh...and don't forget to take your camera with you on some random and mundane trips. Yes, even to Target's frozen food section. :0)
Blessings, Angie