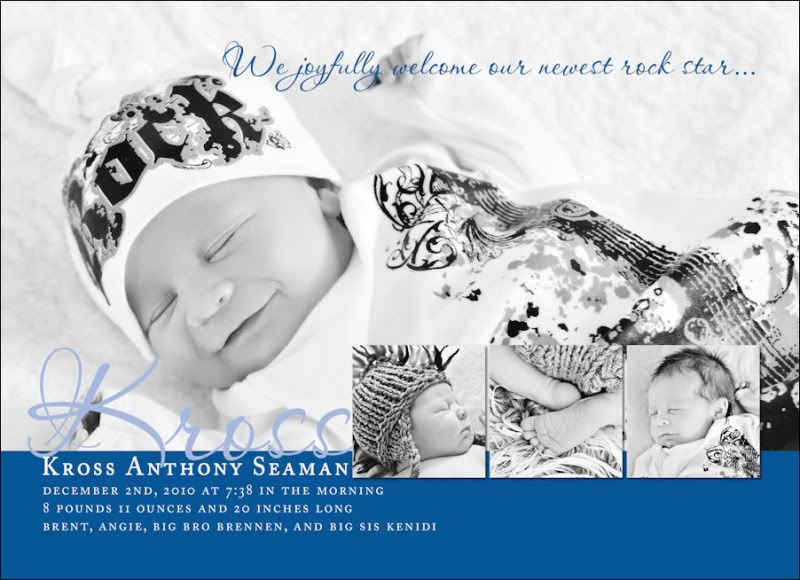 Yes, he is here. Finally, eh? Kross Anthony Seaman arrived as planned on December 2nd. That makes him 4 weeks old as of today. Crazy to think a month has already gone by. He is our Christmas blessing and we couldn't be more happy. This year was truly our best Christmas ever. :)
I wanted to post and let you all know that I'm still alive and that the birth of our 3rd child went beautifully. It's been a month since I've posted here on the ol' blog and I figured I'd better jump on here and let each of you know that I'm feeling GREAT and ready to get back to business. As of this moment, I'm officially off of maternity leave - much earlier than I could have ever anticipated. I've recovered very well since my c-section and am totally ready to start shooting again. Therefore, if you have a photography need, hit me up. Do you have a newborn you want photographed, a family session for the new year, an engagement session, children, maternity, a graduating senior or even any event photography? If so, I'm your girl. My calendar is quickly filling up for the first half and even into the summer of 2011. Now is the time to get on my book.
I also wanted to give all of you a HUGE thanks for helping to make this year so special for Angie Seaman Photography. My business is nothing without my clients and their word of mouth which helps to spread the word about my business not only in Florida but also back home in Indiana as well. And speaking of Indiana...we are going to be traveling back home to Indy on Spring Break (approximately March 20th-27th) as well as the latter half of July on into August. If you reside in Indiana and wish to book a session with me during that time, please let me know ASAP. I plan my trips back home way in advance due to my time there being so "tight." With visits amongst family & friends and scheduled sessions with repeat clients, my time back home fills up very quickly.
And lastly...now that I'm off maternity leave again, my online beginner photography classes and my beginner photoshop processing techniques class are set to start again at the end of January. If you are interested in signing up for any one of these classes or even some one on one mentoring time with me, feel free to visit the "
classes
" page here on my blog or visit my
website
(on the "classes" page) itself for more details on where and how to register. If you have a new camera you are looking to learn how to use, if you are interested in pursuing your passion for photography, or if you are a new photographer wanting to learn how to process images from point A to point B in photoshop, these classes are definitely for you. Again, they start at the end of January. Sign up now while seats are still available.
In the meantime, thanks to all of you whom have written, called, and emailed regarding the birth of our new little guy. We appreciate all of your love and support during this joyous time within our family. God has blessed us beyond belief! :)
XOXO, Angie