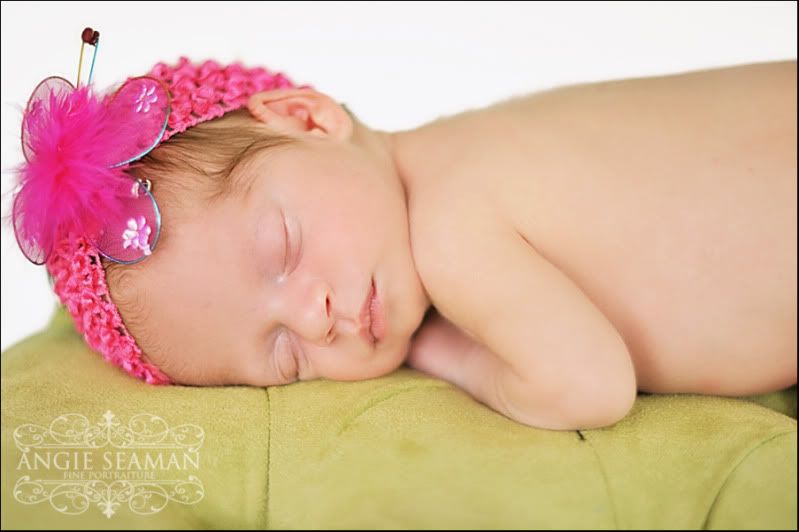 I had the wonderful opportunity to work with a fellow photographer and new friend, Jennifer, on a FAB newborn shoot the other day. Not only was I stoked to finally have a newborn in my sights - in front of my camera - I was even more pumped to work with Jennifer. She and I have many more fun shoots to come and it is just spectacular to pair up with another mind and work off one anothers creativity. As photographers, there is nothing better than finding a friend who shares your same passion. It binds you together in super glued like ways and ensures a connection that can't be broken. So...we tag teamed a shoot and photographed 15 day old little Isabelle. Izzy as her Mama kept calling her. Loved that! :) This child was a breeze as we shot for about 2 straight hours. She barely flinched the whole time.
Jenn brought along this netting and we ran with the whole hammock. It's meant to mimic what the baby looks like in the womb. Jenn said she wanted to get a different fabric - more soft and sheer for next time.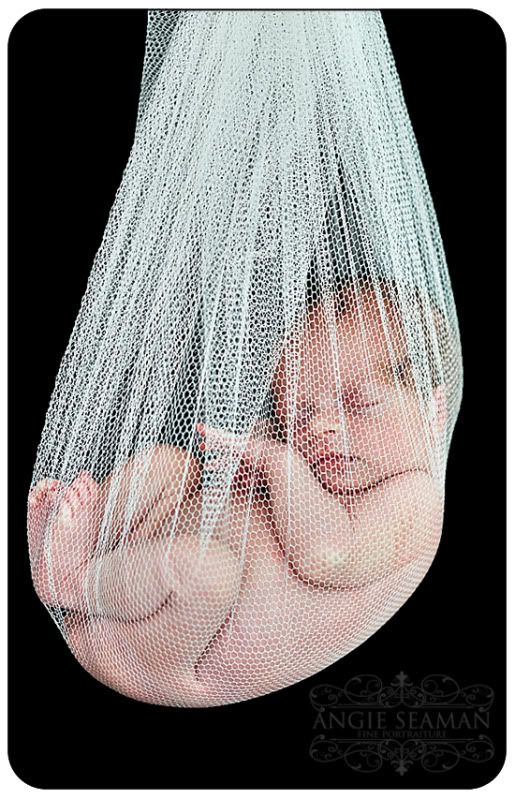 Little Izzy had one small accident - well make that two - on her Mama - as she was being held un-diapered. But at 5lbs., she barely made a dent in the moment. Mom wiped herself off and we kept on trucking shooting. :) I'm envisioning the day when baby Seaman arrives in early December when I can pose him or her as I wish. I've already begun making an inspiration board for back drops, poses, and overall sets that I'd like to try once the our new little is here and in our arms. I'm giddy with excitement. Can you tell? In the meantime though, babies like little Izzy really help fuel my fire and my visions for newborn shoots even more. If you have a newborn or know someone who is about ready to deliver a new little, be sure to look me up if you're in the South Florida or Indiana areas. (We'll be back in Indy come mid August again.) I'd love to work with you and your family. Until then, lets admire baby Izzy a bit more, shall we?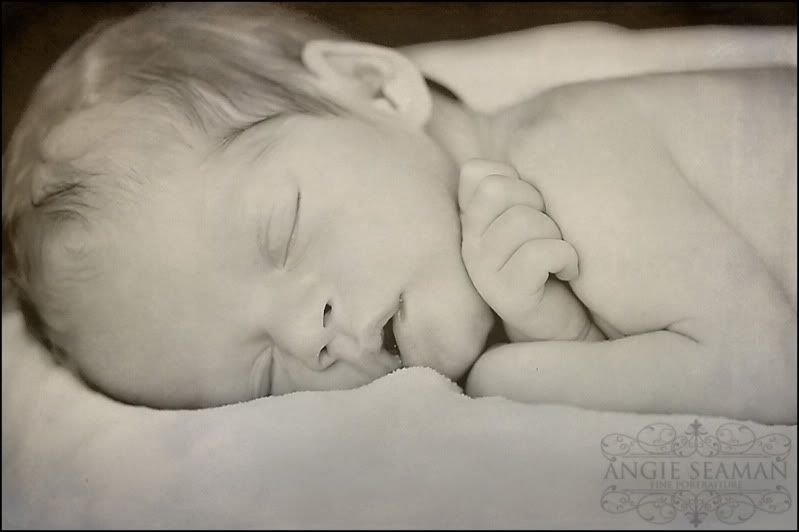 She was the tiniest little thing I've ever seen. She seemed so fragile, so delicate. I just can't wait to have my own little newborn again and smell that newborn scent. :) December can't come soon enough this year.
Thanks for letting me share some sneak peeks with you and a HUGE thank you to Izzy's Mama for allowing us to work with them. It was such a pleasure. And Jenn, thanks for being such an awesome new friend to me here in Naples too. I'm looking forward to the damage you and I are about to do behind our lenses together. :0)
Much love, Angie