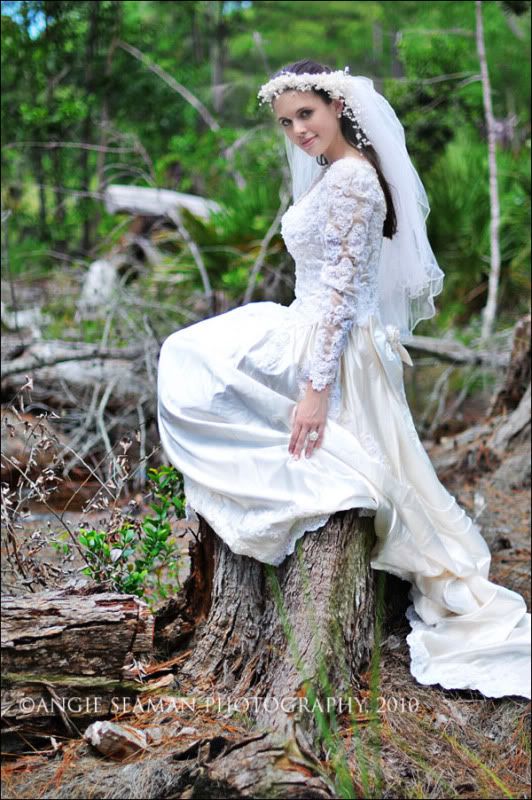 I'm slacking on getting my blog posts up for today. Bad Angie! I attended a PTO meeting at Brennen's school this morning with a neighbor/friend and then came home to edit some images from a sunset beach session I had last night with a beautiful young girl. (more to come on that later on) Aside from that, I've been trying to edit other sessions from my Indy trip in between these most recent ones and also keep up with my current
beginner photography
class that I'm teaching while planning for the next ones in October. It is a crazy busy time but I found myself thanking God for the busy schedule today. I am so blessed to have met so many new friends and new connections here in Naples. It is through those new friends and networking that my business has really picked up and is taking off. I am so thankful and appreciative for those willing to help spread my name and refer me to others. Word of mouth is the most important marketing tool in photography as far as I'm concerned. Therefore, those who are referring me to others they know are scoring some serious brownie points with ol' Angie here. LOL! I always knew Florida would be a great place to plant my photography business year round and that it would just take some time and patience. That patience is really paying off now. I realize that all of this - all of the new friends - all of the connections - all of the new and wonderful clients, etc. all have to do with God's hand. He had this planned well before I ever complied with Brent's decision to move here. It was all in the works already. I'm constantly finding myself thanking God for the blessings in my life that are so not deserved yet are bestowed upon us anyway.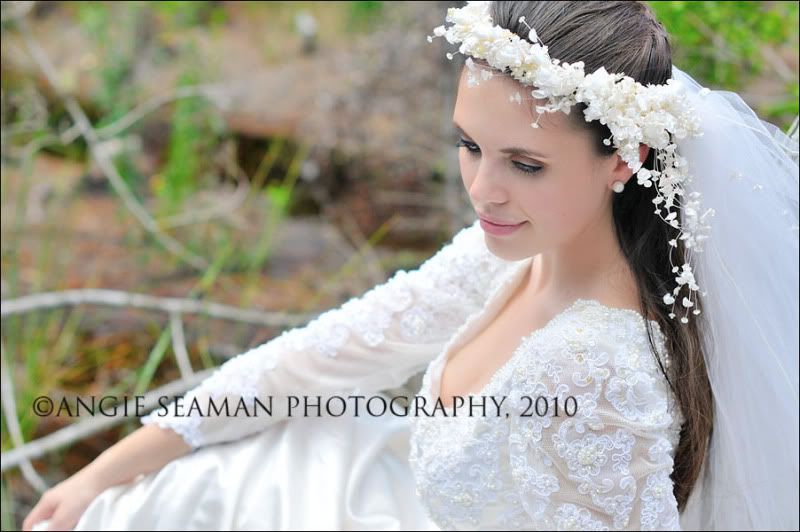 With that said, I'm back to sharing part 4 of the Trash the Dress sessions with you guys. This is Mrs. V. Mrs. V's hair was done by the FAB Michele Galuppo again from
Wedding styles by Michele
. Her make-up was done by the great make-up artist,
Nancy Joseph
. These ladies are some serious dose of talent and can ROCK out the hair and make-up department like nobodies business.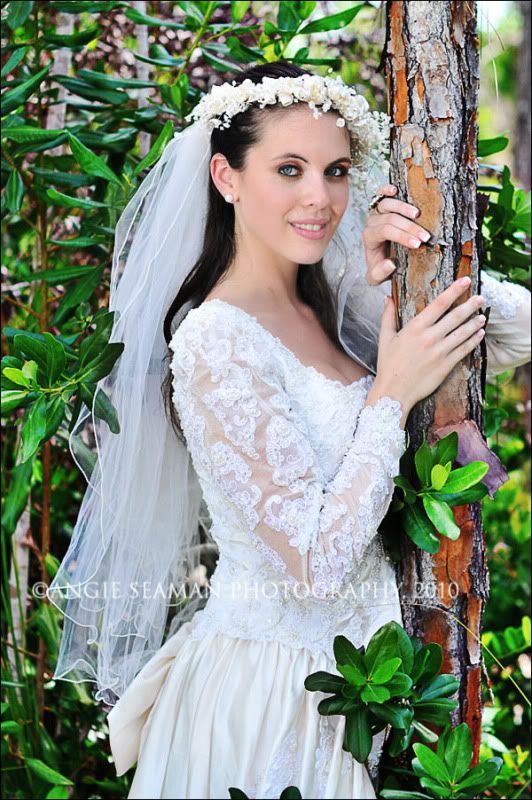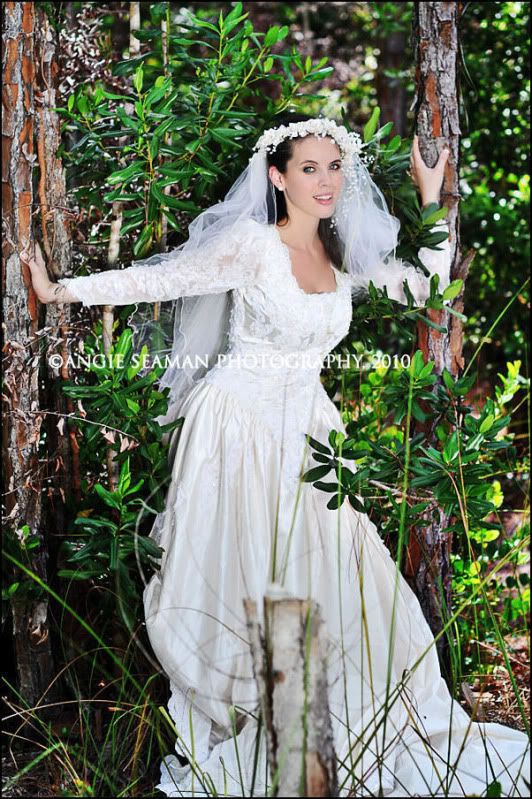 A massive thank you to Mrs. V herself for allowing me the opportunity to work with her. She was another perfect bride during the shoot. I'll be continuing the posting in regard to the rest of the sessions over the coming days. I have two or three more to share just from this one event alone. Then...on to some sessions from this week including the beach session from last night which involved lots of different colored acrylic paint being squirted on our subject for the shots. Oh yes...stick around. Those shots are a must see as well! :0)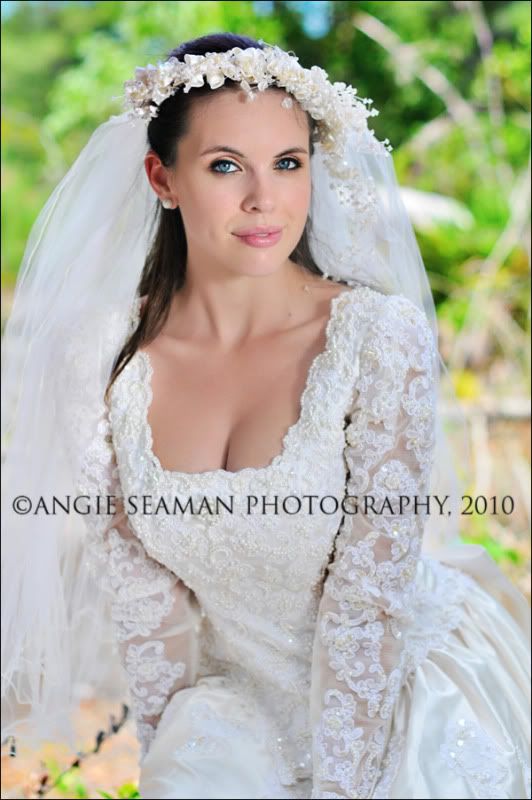 And last but not least, I've gotten several emails recently from many of you blog readers asking me how I'm feeling regarding my pregnancy. I can't thank you ladies enough for caring. So far everything is progressing as one could expect. I'm praying that God continues to allow this pregnancy to progress in an uneventful and very healthy manor. Other than feeling like Shamu, I'm doing good. The heat likes to give me a run for my money every now and again but I carry constant water on me - especially during my on location shoots here in Florida. Last night during my session, I ran out of water. (Yes, I drank all that I had brought with me up to that point) So...I made a quick call to Brent who was in the area with the kids. Him, Brennen, and Kenidi ran me some HUGE bottles of water over to my shoot on the beach along with a massive cup of ice. I was in heaven. It's amazing how much water can allow you to keep going when you feel like you might not be able to. Sitting down for a couple of minutes at a time helps as well. Thankfully the no-seeum bugs have left me alone and I've managed to avoid getting eaten alive while outdoors during the sessions. Thank goodness for the Avon skin so soft bug spray that I can use safely while preggo. Love that stuff! As for my weight gain, I'm keeping it down as well. I've gained a total of 12lbs thus far and am almost 7 months now. I'm totally OK with that amount and hope to continue to keep it low. I'm doing way better at this point than I did with Brennen and Kenidi. With Brennen I gained 60lbs. total and with Kenidi I gained 40lbs in total. Needless to say, I didn't need that kind of extra "fluff" with this pregnancy. Shame it took me three pregnancies to figure out that eating for two is really just a mental misconception. LOL! Although a great excuse to eat, I gave up that mind set this time around and am so thankful that I did. Praying the scales remain good to me as I enter this last trimester.
The next question on everyones mind is "Do we have a name yet?" No. Not really. Well...maybe. Ha ha! We are leaning toward one name in particular and it wasn't any of the options I originally posted here on the blog. So, if we go with it, it isn't one that you guys will have heard before. I'm keeping it tight lipped because I don't want anyone trying to sway my opinion of it at this point. If it works for us, I want to keep it that way without hearing why it reminds so and so of so and so or why they'll call him this if we name him that, etc. Thus why if we do decide to run with this particular name...it won't be shared until he is born. You guys know how much I love dragging out secrets and surprises here on the blog anyhow. Right? Soon. Very soon.
I'm off to get the kids in bed now and gear up for my train wreck of a show, Jersey Shore. I can't believe Brent and I watch this junk but we do. We aren't right. I realize that. There is something fun about being "not right" though. HA! Enjoy your night. Until tomorrow... Angie